The Branon Family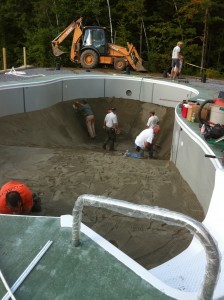 Daniel and Helen Branon are the knowledgable owners of Branon's Pools. They are continuing the family owned and operated business since establishment in 1990.  Daniel has been installing above ground, in ground pools and pool liners since 1983.  The Branon family along with their well-trained staff perform all the of service calls and new pool installations. Other than Daniel, the crew consists of Daniel and Helen's sons, Matthew and Adam; and their long-time employee Michael Connor, who has been with the family for more than 25 years.  When available, Daniel and Helen's two older sons – Daniel II and Gene – also lend a hand on pool installations and service.
Working along side Helen in the retail store is daughter Mona Branon. Another member of the Branon team is Erin Desautels, who joined in the spring of 2007. Inside the store, you will have your water sample tested and get a great sense of never leaving home. At Branon's Pools, the customer is another part of their family and friends.
In the years to come, the seven grandchildren of Daniel and Helen are already dreaming of their first job with Branon's Pools.
This family owned and operated business wouldn't have it any other way. Generations of Tradition.